Mastic Asphalt History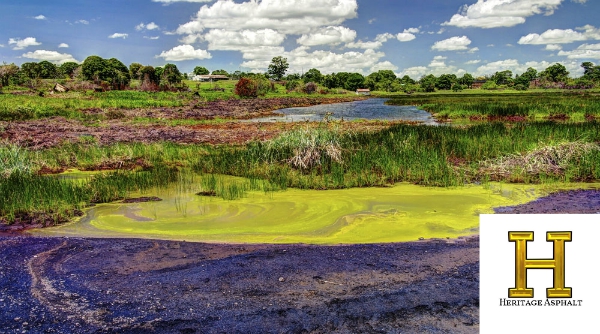 'Sir Walter Raleigh' – you may ask what this legendary man of our history has to do with mastic asphalt, on his worldwide travels Raleigh discovered in 1792 the most beautiful lake (la Brea) on the Caribbean Island, Trinidad. This was no ordinary lake as the entire lake was covered in a black sticky substance, he quickly realised this could be the answer to the leakage on his fleet of ships and coating the hulls of his ships with this substance, we now know this as bitumen. Hundreds of barrels were then shipped back to Britain for use, this turned out to be the start of the mastic asphalt history. A century passed and coarse aggregated were added to the bitumen giving a much denser substance alternative. Mastic asphalt soon became a unique product with its variety of waterproofing systems from tanking to roofing, then evolving from flooring to carparks, 1162 BSS grade natural rock asphalt then became a formidable roofing product. Mastic asphalt was often preserved by plugging outlets as to leave a flooded roof only to be emptied when rising to the damp coarse line, something that would not happen this present day.
Early N.H.S hospitals had wards and corridors laid in flooring mastic asphalt with a cove finish to the edges, this was not only decorative but also hygienic as it was easy to clean. Television studio floors also had mastic asphalt flooring this was then the best way to keep the cameras steady. Tanking mastic asphalt proved how highly skilled tradesman could keep water from penetrating either concrete or brick substances, it was applied in 3 coats to a thickness of 20mm on the walls to 30mm in 3 coats to horizontal to any height or depth.
From the mid-seventies the asphalt lake was now coming to an end, a prestigious roofing company, Permanite, had already, with their department of technologies formed a new alternative, Permaphalt asphalt, it was now in production which in the early 80s came to fruition. This polymer grade asphalt, with an elastomeric ingredient transformed the roofing trade, councils started using the mastic asphalt product with a 25 year guarantee and as years moved on I.K.O bought out Permanite+, all products moving into the global market.
Amazingly only a few European counties use this durable waterproofing system as others prefer built up felt or liquids. As the need for mastic asphalt grew carparks with the guarantee of waterproofing and a grit added to harden it, which allowed for a watertight roofing with the versatile friendly base. Large tankers of mastic asphalt were now becoming the norm, up to 20 tonnes in a load being laid in just a few hours, enabling large flat areas to be laid in a small amount of time.
If you need any more information regarding the history of mastic asphalt, please get in touch with our friendly team at Heritage Asphalt or call us today on 0207 781 8150.
For more interesting information about mastic asphalt please read more of our blog posts. An index of all our blog posts covering all aspects of asphalt can be found by clicking on the following link: Mastic Asphalt Blog.