Mastic Asphalt Flooring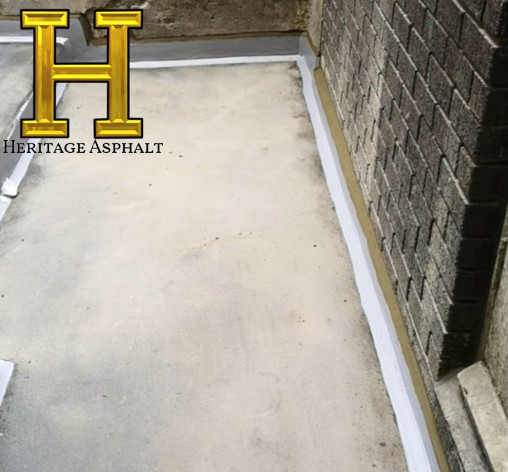 Are you looking for an asphalt flooring specialist? Whether you need some new asphalt flooring installed or repairs to an existing asphalt floor Heritage Asphalt can help. We have a specialist asphalt flooring team who can help you with all aspects of asphalt flooring. For FREE estimates and technical advice get in touch with us today using our contact form or call us on 0207 781 8150.
Asphalt Flooring One of the Longest Lasting Flooring Materials
Mastic asphalt flooring can outperform and outlive almost nearly every other type of flooring material. Its durability and damp-proof properties make it the flooring material of choice for many specifiers. Asphalt flooring repairs can be carried out quickly and cost effectively.
The flooring can be quickly installed using a hot charge process. This process results in the mastic asphalt cooling very quickly. This means carpets and furnishings can normally be replaced with three hours keeping disruption to a minimum.
Mastic Asphalt Flooring is Durable, Dust Free, Attractive and Damp Proof
Using asphalt flooring provides the end user with a dust free, durable and attractive finish. Whilst also benefiting from a flooring material with excellent damp proofing properties. This makes it a perfect choice for industrial applications, where the flooring has to withstands the demands of heavy use on a daily basis. It is also possible to use special grades of mastic asphalt where spark resistance is needed. Or when increased resistance to acid solutions is required.
The material is equally suitable in domestic settings. Mastic asphalt is a proven waterproof membrane and radon gas barrier. This makes mastic flooring the ideal base for carpet, vinyl or other types of smooth flooring.
Advantages Of Asphalt Flooring
• Carbon Zero Rating.
• Has proven itself as a flooring material over many years.
• Aggregates can be added to mix for both anti-slip and extra hardness.
• Attractive Finish.
• Extremely durable flooring material.
• Excellent Damp Proofing Properties.
• Suitable to withstand for heavy foot traffic.
• Minimum disruption to the building during the installation process.
What is Mastic Asphalt Flooring?
A Mastic Asphalt Floor or deck varies in thickness and grades dependant on its use typically 10-20mm thick when used as a moisture suppressant it is normally poured over a separating membrane (technically it becomes a floating subfloor).
As a damp-proof membrane (DPM) mastic asphalt is a highly-rated choice by highly experienced surveyors often used for flooring, tanking, steps, balconies and walkways as well as its traditional use of flat roofs.
Mastic Asphalt Flooring Build Up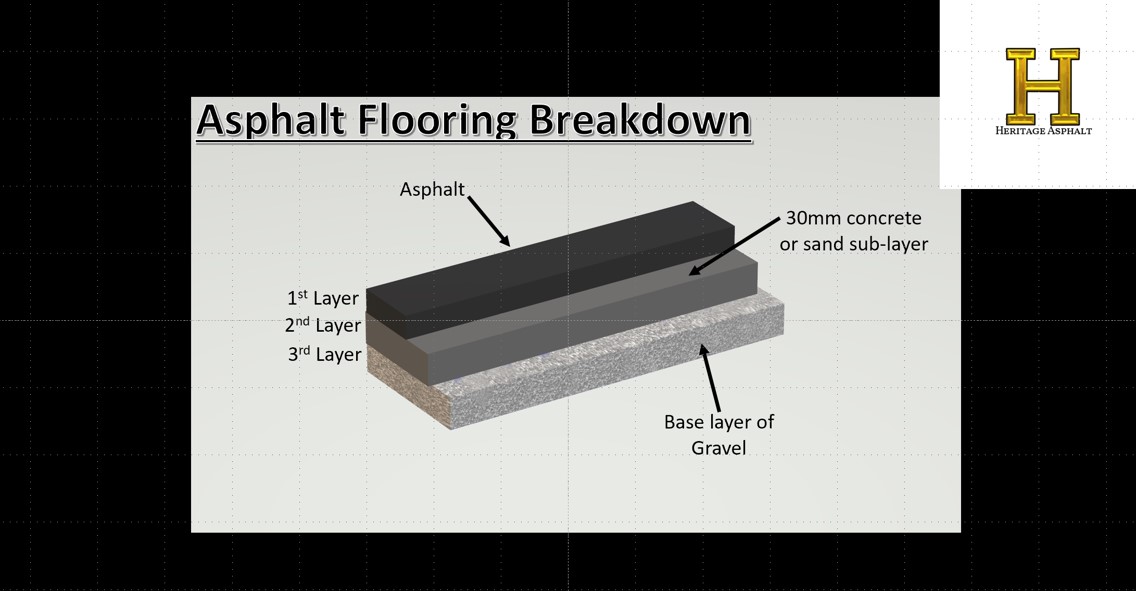 How Much Does Mastic Asphalt Flooring Cost?
The cost for mastic asphalt flooring differs depending on a variety of specifications and thickness.
Whereas mastic asphalt roofing is priced for access and ingress to the roof height and labour as a consideration.
The following are estimated mastic asphalt flooring costs:
• 20mm – laid to new substrate horizontal only: £40-£60
• 25mm – laid to new substrate horizontal only: £50-£70
• 30mm – laid to new substrate horizontal only: £70+
• Upstands up to 150mm: £25LM
• Upstands up to 200mm: £25LM
• Upstands up to 300mm: £25LM
• Upstands up to 300-500mm: £25LM
Get in Touch With Heritage Asphalt about Asphalt Flooring
If you would like a quotation or any information on Asphalt Flooring which you cannot find on our website please contact us via our web form or call now on 0207 781 8150. One of our friendly team of asphalt flooring specialists will be happy to help you.
Asphalt Flooring being Applied by one of our Team