Asphalt Steps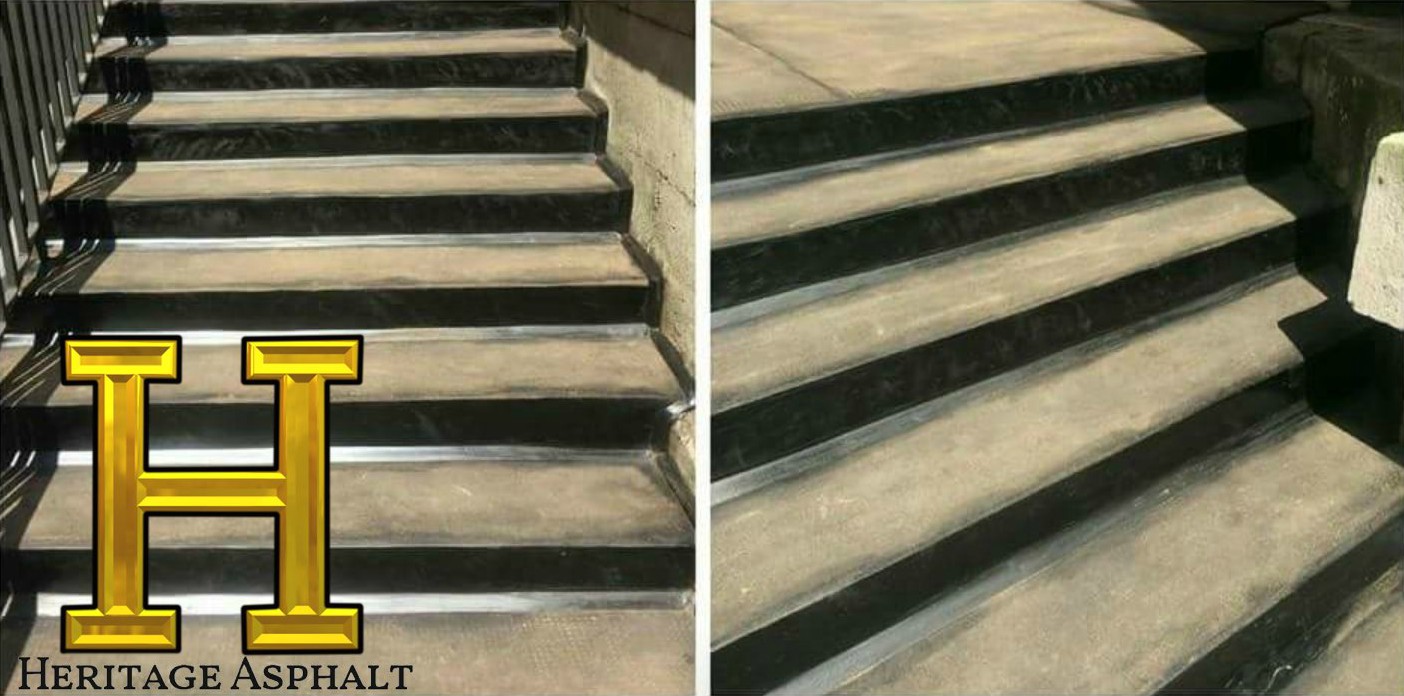 Mastic Asphalt is the Perfect Material for Waterproofing Steps
Are your asphalt steps in need of some professional attention? Whether you need repair work, maintenance or a complete replacement Heritage Asphalt will be able to help you find the most cost effective solution to your problem. For FREE estimates and technical advice get in touch with us today using our contact form or call us on 0207 781 8150.
If installed correctly by skilled tradesmen Asphalt Steps are extremely durable and can last for in excess of 30 years.
For this reason and it's excellent waterproofing properties Mastic Asphalt is commonly used in the waterproofing of floors, roofs and the tanking of basements. It is also a material which performs especially well in high traffic areas.
A Member of our Team Waterproofing Steps with Mastic Asphalt
The Construction of Asphalt Steps
Treads
• Treads should be formed in roofing grade mastic asphalt and laid in two coats to a thickness of 25mm.
• The first coat should be 10mm thick and the second coat should 15mm thick. And incorporating 10% to 15% of additional 3mm coarse aggregate, excluding a separating membrane.
Risers
• Risers should be formed in roofing grade mastic asphalt and applied in two coats to a thickness of 13mm, completed prior to laying treads.
Strings
• Strings should be formed in roofing grade mastic asphalt. And applied in two coats to a thickness of 13mm. Dressed into a continual 25mm x 25mm chase, constructed either parallel to the pitch of the stairs. Or stepped vertically and horizontally to follow the line of the treads and risers. Strings over 300mm high need to be applied in three coats to a thickness of 20mm.
Build of Asphalt Steps Description
Visual Inspection
• Before commencing with any new mastic asphalt stair installation, we must make sure that the substrate is correct for the product.
Below are number of key points that we make sure meet out requirements:
• Is the staircase structurally sound and inspect the underside of the steps.
• Make sure that the surface is i.e. Concrete/rendered/tile, otherwise the primer/asphalt will not adhere to it.
• Is the substrate containing water? A drying out process will need to be carried out manually or with machines.
• Are the asphalt steps compromised in anyway after installation due to oil or any other product that could affect the chemical products of the waterproofing. (Contrary to popular belief the black substance on your steps is asphalt not tar)
Strip Up
• Carefully remove existing current asphalt surfaces, these would be manually hacked off with a hammer and bolster, making sure that we do not damage the building fabric. All chases to be cut with a angle grinder 25mm x 25mm standard (nib tub). The debris shall be removed from site in rubble sacks and placed into vans (waste carrier licence) then cleared into licensed skips.
Substrate Repairs (If Required)
• Before the common cement of asphalt installation is carried out the substrate should be flat and all defects to the concrete should either be uni-bonded/ rendered or concrete poured so that the surface is flat and has a key for the mastic asphalt to bond too. If the asphalt is built up, then the areas (above 20mm) will slump in hotter weather. All surfaces will have to be primed with high-bond primer as bitumen primer will cause oils to rise to the surface during summer months and create the asphalt to blow. All render will need to be dry and dust free before installation.
Cutting Chases
• As previously mentioned, the chase size is 25x25mm, this creates a 'nib tick' and the asphalt can sit into the primed chase line and this will allow the asphalt to sit into the chase ready to receive either mastic (not oil based) or sand/cement mortar.
Priming
• All vertical surfaces (as previously stated) must be [rimed with high bond primer. The surface must be dust free and dry as the primer will skin over the surface and will not dry into the concrete/render. The primer will dry out 1-2 hours and can be accelerated with a gas torch but should not be burnt onto. All caution should be taken not to draw any moisture out of damp surfaces as all materials need to be dried before common cement of asphalt application takes place.
1st Coat Mastic Asphalt
• The strong base start for any set of steps is the mastic asphalt 988T 1st coat of waterproofing. The code of practice would be to first coat the side stringers of the step's risers to a thickness of between 7/8mm, applied with either self-made wooden floats or trowel. The first coat of side stringers would then be tucked into the prepared chases for termination. Next the step risers first coat would be turned over on to steps for preparation to move on for finishing.
Treads Separating Membrane
• A separating membrane to treads would be sheathing felt loose laid with a bitumen content which adheres to the mastic asphalt but at the same time, allows movement between substrate and finished product.
Top Coat Treads
• All top coat treads are laid with paving grade asphalt and 3mm grit added for the wearing of foot traffic of between 10-15%.
Application:
• Fit batten to 15mm above riser edge on each tread.
• Lay with wooden float out of bucket, level with fitted batten.
• Sand rub the asphalt leaving a coarse but smooth level finish.
• Brush excess sand away and take away fitted batten.
• All treads to be done with the same application.
Top Coat Upstands and Risers
• When applying the top coat to upstands of risers the finish should be a seamless 7-8mm thick with a sharp straight line. Stringers should be spread with a continuous movement, tucking into prepared chase for termination, with a wooden float. When risers are applied with the top coat the mastic asphalt is extended over on to the treads warming up the previously laid paving. This will enable, when lifted to make sound completely waterproof finish with the float brushing sand over onto the black mastic to stop the bitumen rising in the sun. when all upstands and risers are completed, we have, not only a waterproof set of steps, but also a decorative finish that is easy on the eye.
Angle Fillets
• Unbelievably the most important, fillets join the vertical to horizontal, this is the final piece to fully waterproof the steps. Angle fillets are also technically the most decorative looking aspect of the steps, but they also achieve the most.
Procedure:
• Warm and clean existing mastic asphalt with hot poultice method.
• Apply a first coat to risers and stringers alike keeping the lines.
• With the top coat apply excessive amount of asphalt enable to warm all areas of upstand and horizontal then with the fillet stick mould into a waterproof but very decorative finish with clean straight lines.
• Angle filets to stringers save procedure. Joining to horizontal leaving and asphalt trademark 'rose' for finish.
Collars and Fillets
An Asphalt Collar being Applied to a Handrail Base
• Some steps have handrails, these will then be finished with collars or (standards) fillets. If needed a collar will be applied to a handrail base. This comprises of tanking the mastic asphalt up approx. 100mm in 2 coats with an angle fillet to base. A mastic compound will then be smoothed to the top as to stop any movement pulling the asphalt away. Standard fillets can also be applied if there is less need for collars. This involves a neat dressed finish with the hot asphalt.
Waterproof Compound Chases
• The need has never been greater with the breakdown of san/cement mortar chases. The waterproof compound gives flexibility, durability and a long-lasting insurance, that is needed as age old mortar cannot guarantee along with a colour option and smooth lines.
Protective Solar Paint Coating
• When a set of steps are completed solar reflective coating will give added protection for many years. When applying the solar protective paint to old existing steps a primer would need to be used before 2 coats of solar protective paint can be applied giving longevity to tried asphalt. However, newly laid asphalt steps just need 2 coats of solar protective paint giving a smart clean appearance.
Maintenance (Most Important)
• As with most completed workmanship, maintenance is key for a long lifespan. A heavy or blunt instrument dropped on the treads could cause damage which not attended to could cause damage which not attended to can in time cause a leak. The one advantage with mastic asphalt steps if damaged occurs it is easily rectified with the right application even down to an extra coat of reflective paint every 2/3 years will only add to your set of steps looking good as new.
Completed Asphalt Steps in London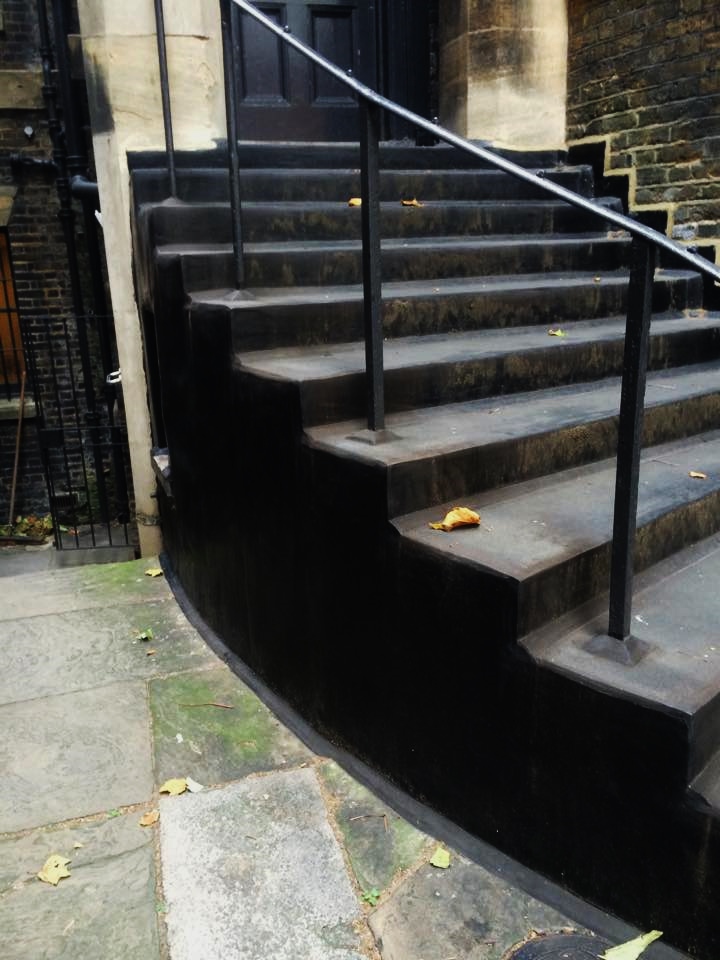 The Benefits of Waterproofing your Steps with Mastic Asphalt
• Fast and Easy to Apply
• Cost Effective
• 100% Waterproof
• Maintenance Free
• Up to 30 years' life span
• Little or no impact on the environment
• Recyclable
• Achieved Carbon Zero Status
Need a Quote or Some Advice Regarding Asphalt Steps?
If you would like a quotation or any information regarding the repair, maintenance or installation of Asphalt Steps please get in touch with us via our contact page or call us now on 0207 781 8150. One of our friendly team will be happy to assist you.
Asphalt Steps Specification Video